Go Curved?
The newest innovation in TVs is Samsung's top-of-the-line curved TV. You may have heard about the new curved TVs, but what are they? Is it worth the upgrade?
Besides their unique, futuristic look, Samsung suggests the curved screen helps provide a more "immersive" experience. Still, this distinction is quite subtle and seems to have no major influences on the overall viewing experience. Depending on where you are sitting the angle can make distortions more apparent, sometimes skewing the image with a "bowtie" effect. Reflections are somewhat reduced through the curved technology making this TV a possible solution for a room with a lot of light and windows, as the screen will catch less of the reflecting light.
Samsung offers these TVs in LED or 4K (4K offers 4x the resolution of high-definition TVs). The 65" curved 4K HU9000 is currently offered at $4,500, while the flat LED version remains at $3,800.
The TV has excellent picture quality, great design, built-in camera, Smart TV capabilities but the added curve increases the price a substantial amount for little to no added benefit for your family's viewing pleasure. When comparing the curved screen to the flat screen, the curve seems to be a purely cosmetic option.
So is it a realistic upgrade or just a marketing gimmick? For now we say gimmick; you're better off putting your money towards a bigger, yet equally beautiful flat-screen model. Unless you prefer the cosmetic aspect of the curve and don't mind paying a premium, by all means go for it.
If you truly desire something no one else has, you can upgrade to an 105-inch curved UHD TV for nothing short of $120,000!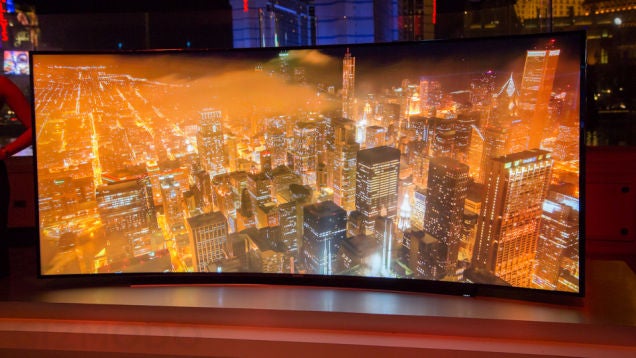 Gimmick or Realistic? You decide. Come check out the 4K projector in our showroom if you haven't had the chance to experience it!
=====================================================================================
SoundVision designs and installs Home Theater, Home Automation, Lighting and Security Systems for Residential, Commercial, Home, Business, Corporate, Restaurants and Hotels.
Areas served are: San Francisco, Marin, Sausalito, Tiburon, Belvedere, Mill Valley, Corte Madera, Greenbrae, Larkspur, Ross, Kentfield, San Anselmo, Fairfax, San Rafael, Novato, Napa, Calistoga, Oakville, Rutherford, Yountville, Saint Helena, Petaluma, Santa Rosa, Rohnert Park, Windsor, Cotati, Cloverdale, Healdsburg, Sonoma, Berkeley, Piedmont.