The Joy of a TV With the Individuality of Tailor-Made Artwork.
A big black TV detracts from a thoughtfully designed and curated space. A sitting room becomes a media room when you add a big TV, causing the room to lose its character.
One solution our customers love is the design-conscious "Frame TV" from Samsung. It makes your TV look good even when it's off. Here are the three main features that make the Frame TV unique:
It displays a matted artwork or photo of your choice when it is turned off.
We mount it flat on the wall like a piece of art, with no visible brackets or wires.
We will mount it with a custom frame of your choice to match your style.
Now you can enjoy a TV in just about any room without ruining the feel of the space. 
Just because it's good at imitating art doesn't mean it falls short as a TV. The Frame TV has a great screen that rivals some of the best LED TVs on the market.
Designed To Be Heard, Not Seen.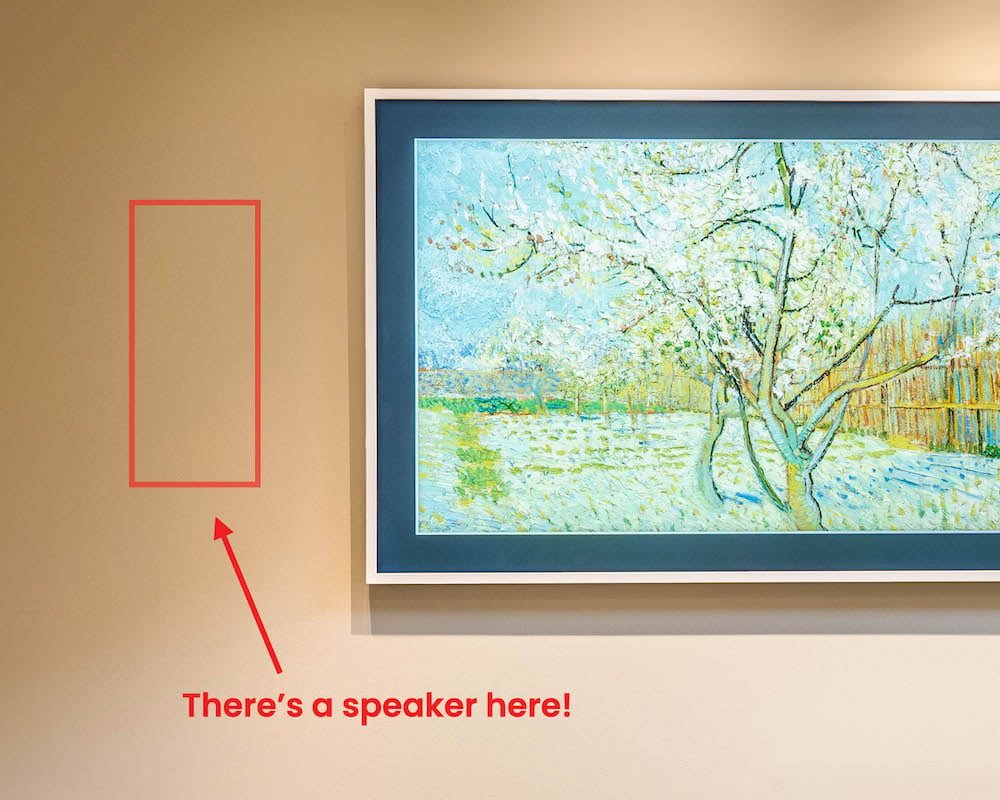 We have several different speaker options for you to see and hear. We have speakers that play THROUGH the walls or ceilings (totally invisible).
Or, you can have wall/ceiling-mounted built-in speakers. The most you'll ever see is a speaker grill. Our built-in speakers play through color-matched speaker grills.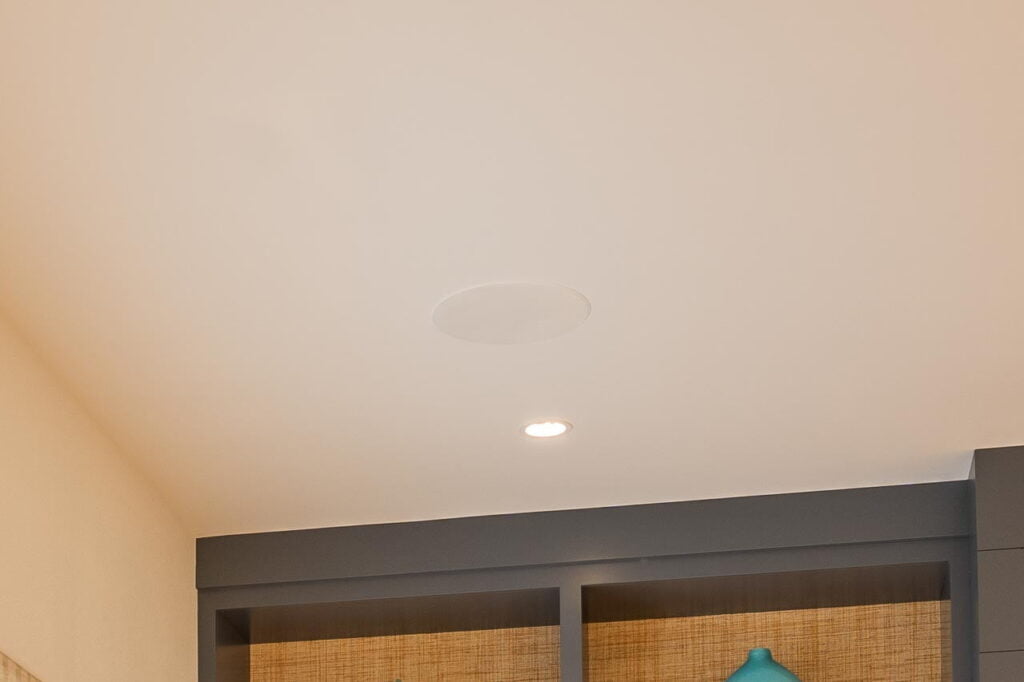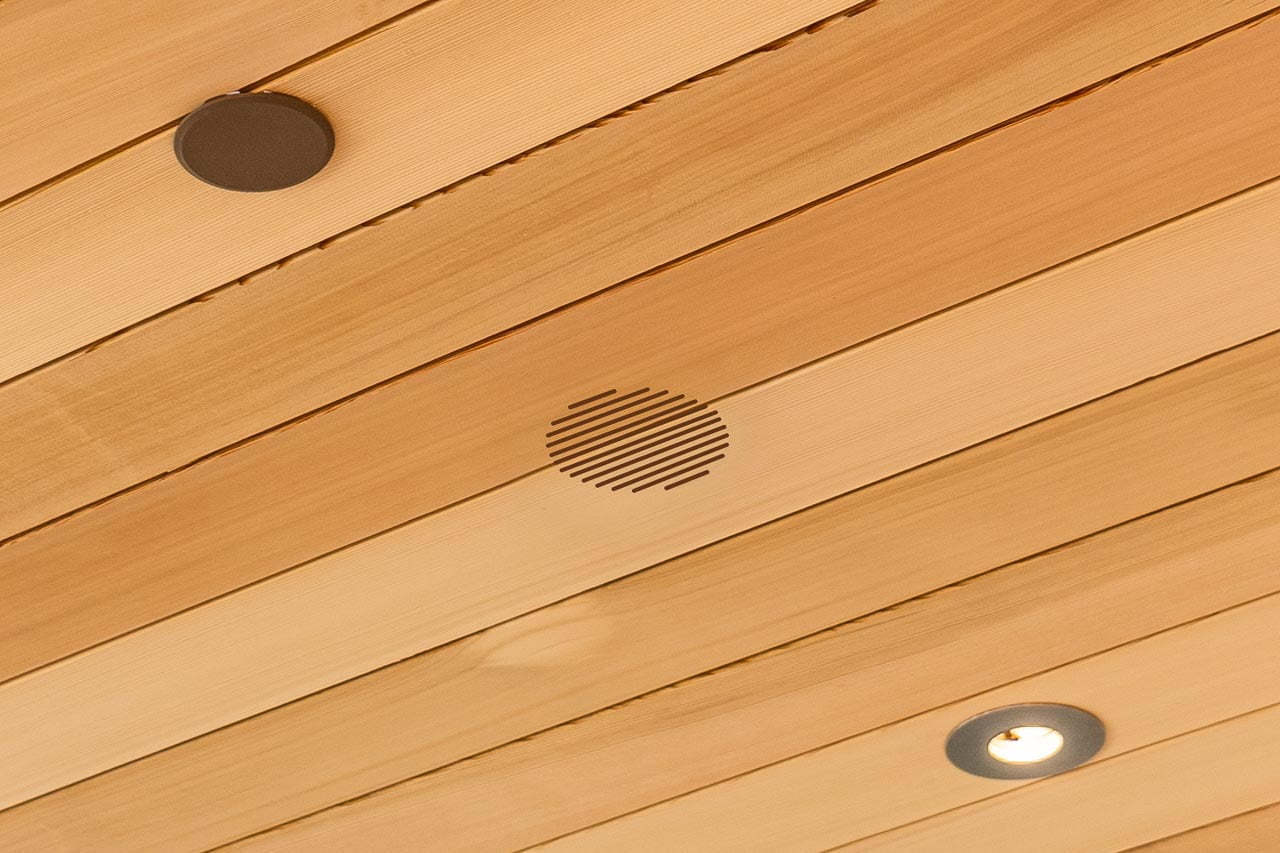 Some of the speakers are as small as a downlight! There's something for everyone.
Not sure what kind of speakers you want? Come to our showroom, see and hear our most popular options and find the one you love the most. Do you have a speaker preference? No problem! You can pick your speakers and electronics from the biggest names in audio, like McIntosh, Bowers and Wilkins, Klipsch, Bose and dozens more.
With SoundVision, we help you make your home audio system easy for everyone to use. Open the Sonos app, select a room and select your music. It's that easy! You can play from all the big-name streaming services, play a record, enjoy different music in different rooms, or have the entire home playing the same song!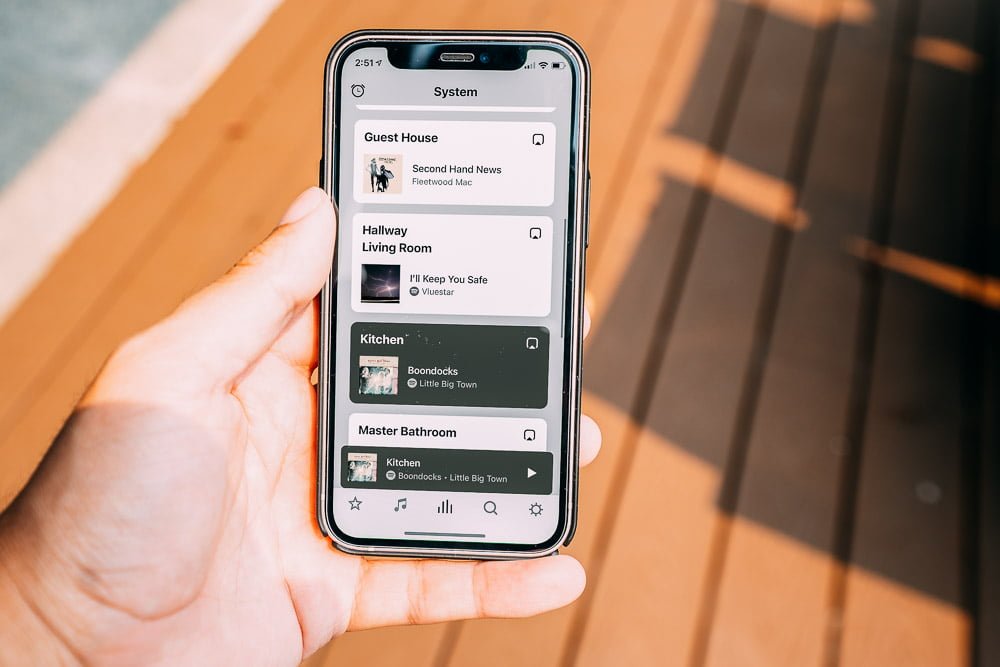 Stay Updated With Our Monthly Newsletter!
Join hundreds of others in the North Bay and get exclusive tips on the latest in home technology and home design.
3) Motorized Shades and Drapery:
Privacy and Sun Protection at the Press of a Button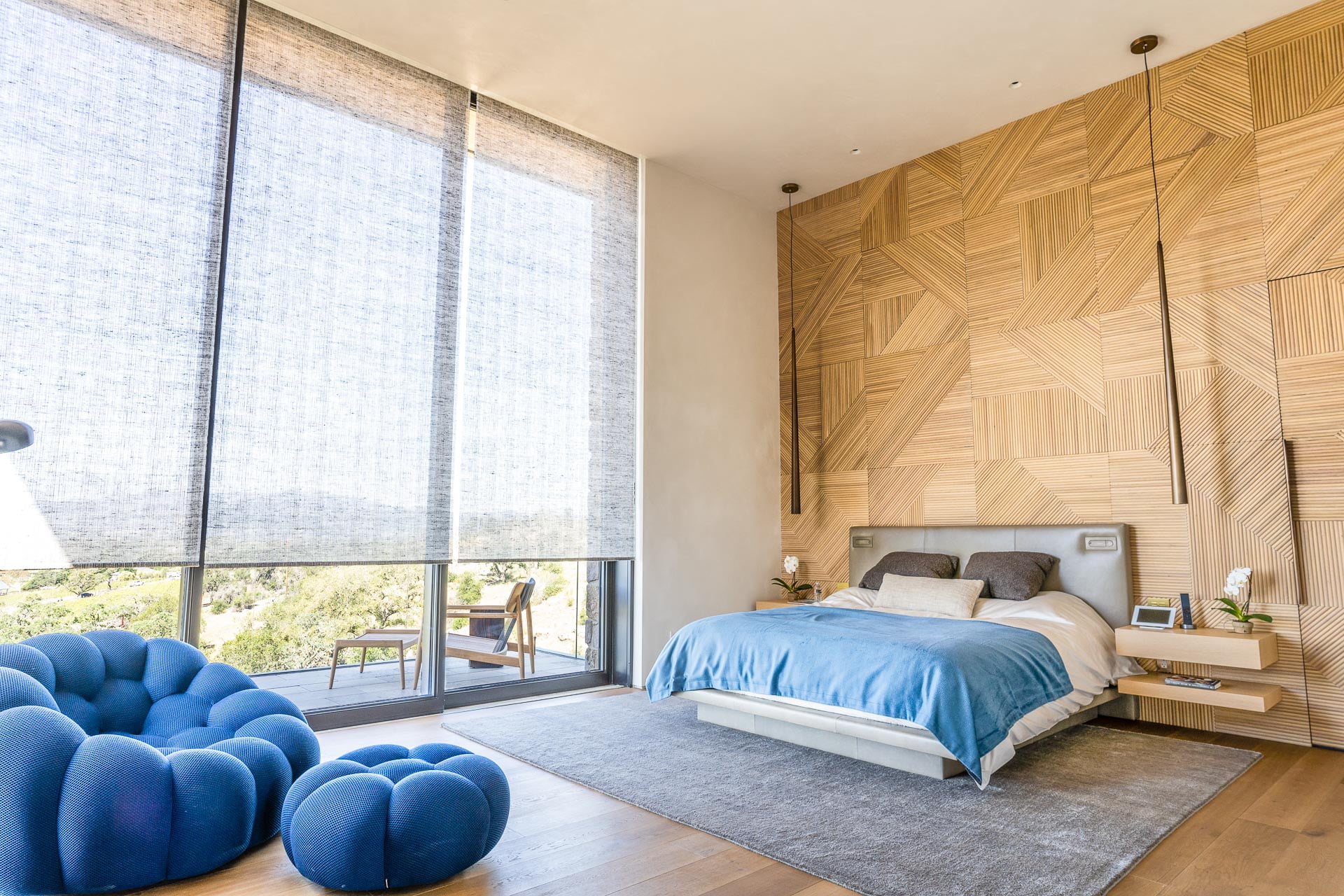 Many of our customers have magnificent windows with beautiful views. However, sometimes the natural light can be overwhelming. It would be awful to spend hours carefully picking home finishes only for the sun to cause them to fade prematurely. You can protect them with manual shades, but people often leave them in one position: down. What's the point of having a view if it's always blocked? That's why motorized shades have quickly become one of our customers' favorite solutions.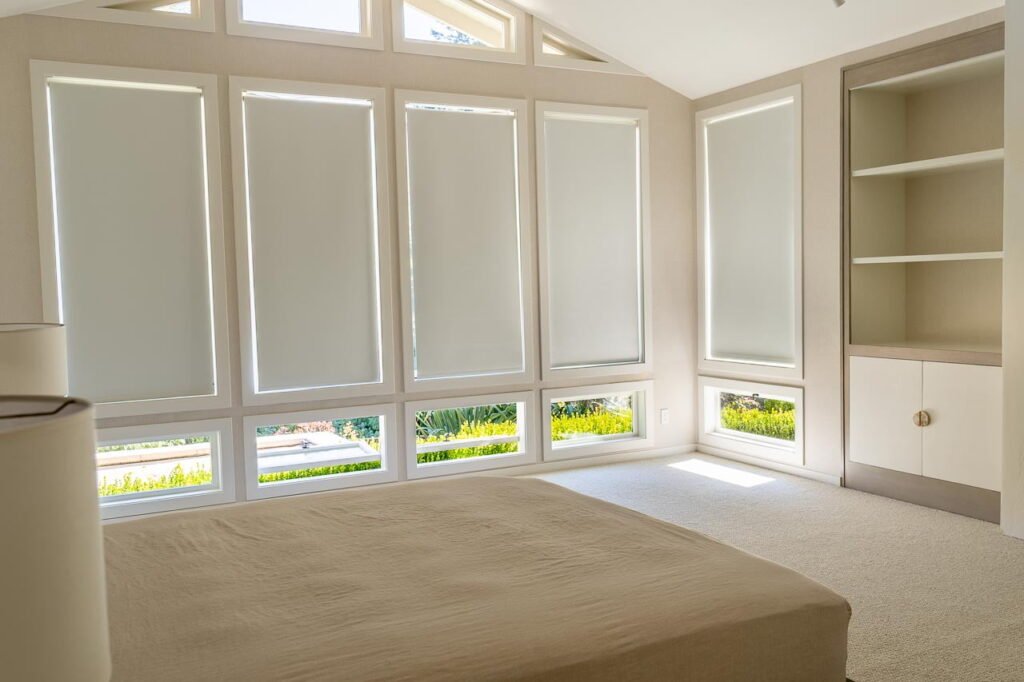 People love them because they can decrease glare, increase privacy and make moving all their shades effortless. Effortlessly wake up by raising your blackout shades in the morning before you even get out of bed.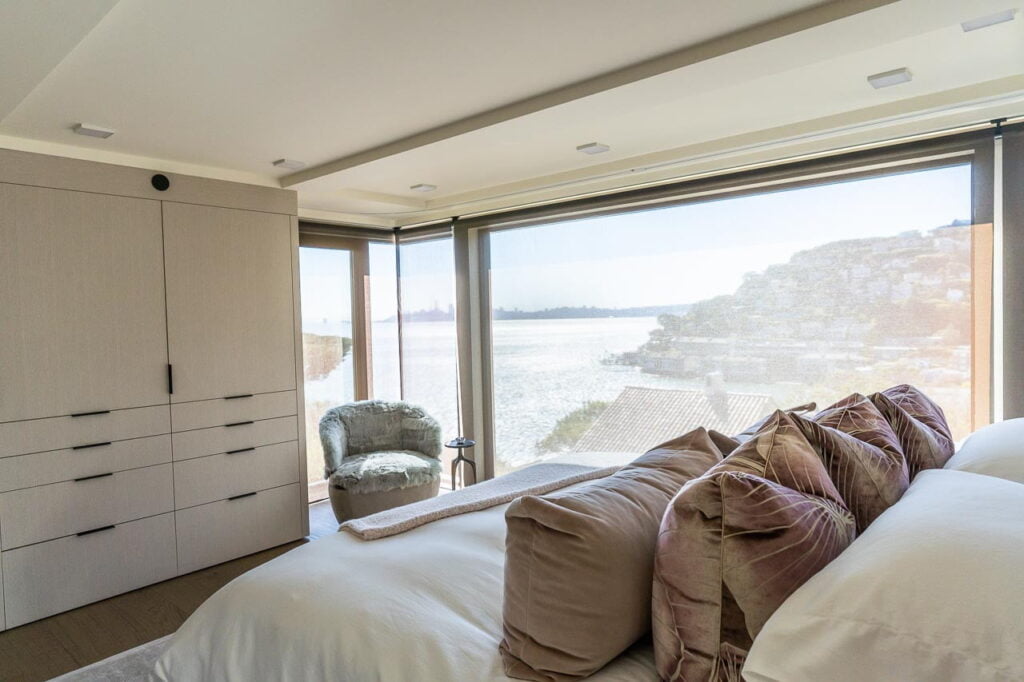 Or, enjoy your priceless view even on the sunniest days with our sheer shades that allow you to look out while cutting down on glare.
Designers love our shade options. Our shades come in many fabrics and mounting styles to look beautiful in any space. If you don't have a room where you want to see the shade, we can recess them in the ceiling!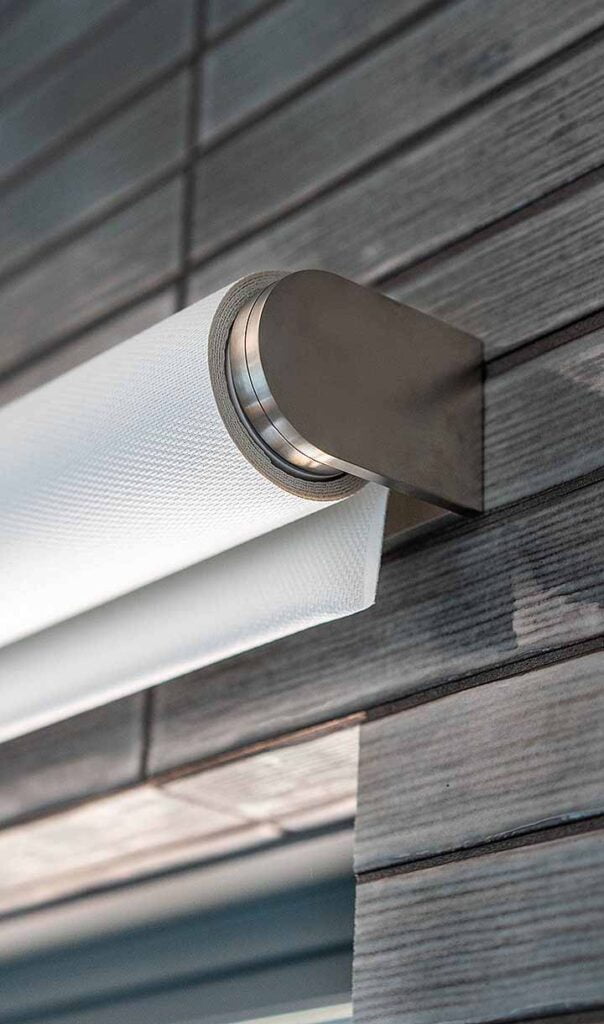 Come by our showroom to see our fabric options and why our Palladiom roller is so popular with designers. Give us a call at 415-456-7000 and schedule a time to stop by.