Since 1998, SoundVision has designed and installed home entertainment and control systems that are simple to use, blend seamlessly with your home's décor and are built to last. We are dedicated to giving our customers the best value in home entertainment and control by providing the industry's best service, featuring only the best products and hiring knowledgeable staff.
Our design, engineering, installation and programming processes always begin with the end result in mind. These processes and practices are just part of our broader philosophy to completely understand the client's needs and be the most professional contractor on every project.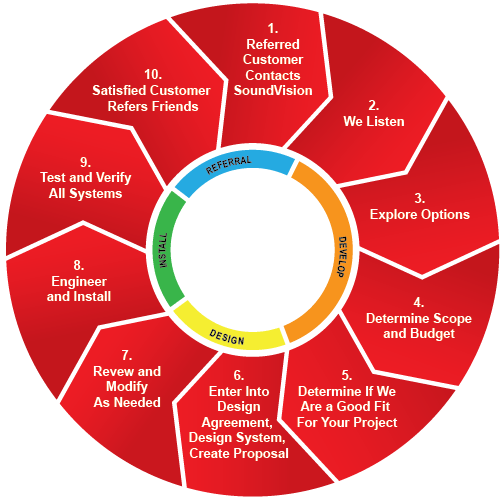 A Referred Customer Contacts SoundVision
You contact SoundVision based on an enthusiastic referral from your friends.
We are ready to hear what you really want for your home or project. At SoundVision, we build our reputation around delivering exactly what you desire.
We work with you to understand the features, level of performance, aesthetics, and ease of use you desire for each system.
Determine Scope and Budget
A scope of work and preliminary budget is prepared. SoundVision is dedicated to delivering systems and experiences that exceed your expectations while meeting your budget.
Determine if SoundVision is a Good Fit for Your Project
SoundVision is not necessarily the best fit for every project. At this point we determine whether everyone's wishes will be satisfied if we move forward with the project.
Enter a Design Agreement, Design System and Create Proposal
Regardless of size, all SoundVision projects include a room-by-room system overview, line-item proposal and equipment specification sheets, showing you exactly what to expect from your completed system.
Review and Modify As Needed
Upon completion of the design phase, you will meet with a SoundVision designer to go over the proposed system. Our goal is to give you what you really want, so any necessary changes will be made.
Our staff of CEDIA-certified engineers and technicians work in tandem to design and install your new system.
Test and Verify All Systems
We test and verify that every button of every system works as designed. We then walk you through everything, ensuring that it's intuitive and easy to use.
Satisfied Customer Refers SoundVision to Friends
Based on your positive experience, you refer SoundVision to your friends. We aim to have you so excited with your new systems that you can't wait to show and tell everyone you know.
See What Other Customers Have Done With Us
See the cool ways our clients seamlessly integrate technology into their homes and learn more about the technologies we can integrate! We only send an email once a month!
Our vision is to be the most organized and efficient company in the industry. We will clearly define success for each position, process and project. Our professional staff will be equipped with the documentation, tools and training they need to be successful. We will provide the best work environment, compensation and recognition to attract and retain the best people. We will provide a superior level of service and value that keeps our customers and colleagues referring their friends and clients.
SoundVision is a team of well-trained professionals whose purpose is to integrate lifestyle enhancing technology into discriminating customers' homes.
We focus on aesthetic impact, we design for intuitive operation, and our methods promote trouble-free system performance.
Our goal is to provide systems and experiences that exceed expectations and result in strong referrals.
Let's Bring Your Vision to Life
Fill out our form, and we'll get back to you as soon as we can. Or, skip the wait and call us!