Tap Your Preferred TV System
Elevate Your TV Experience
We'll design your TV to gently tie in with your existing space and an awesome sound experience that brings you into the movie. Have your TV mounted flush with the wall or recess it into the wall so that the display doesn't stick out. Make your TV more versatile by putting it on a motorized articulating mount. We like to create TV solutions that look like they were built for the space. All our SoundVision installs have the wires hidden. We're so proud of our work that we offer a lifetime warranty on all our craftsmanship, so you can rest assured your setup will stand the test of time.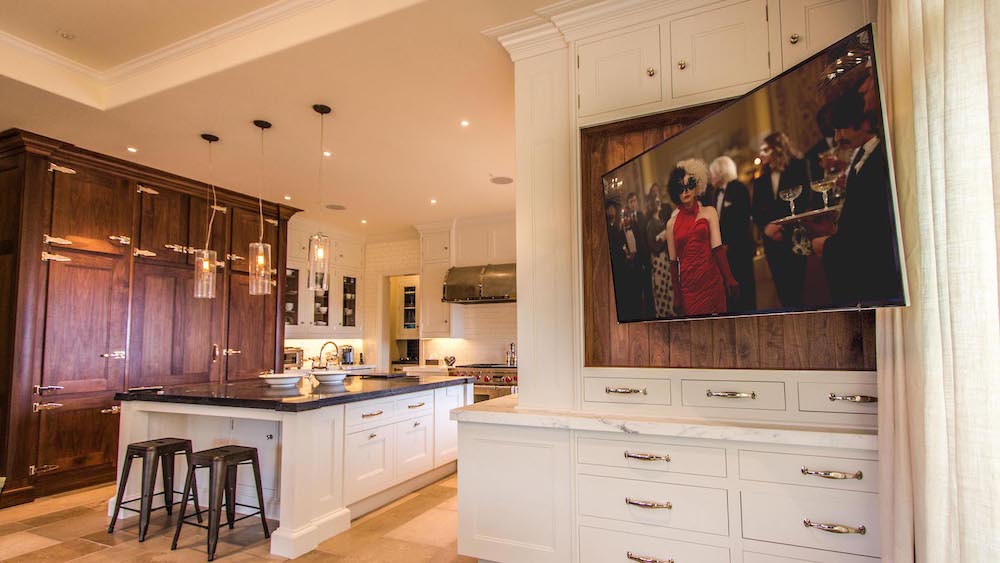 Increase the versatility of your TV by putting it on a motorized swivel. In an open floor plan, this allows you to share a TV over multiple rooms. Now you can watch TV while you cook in the kitchen from the living room TV.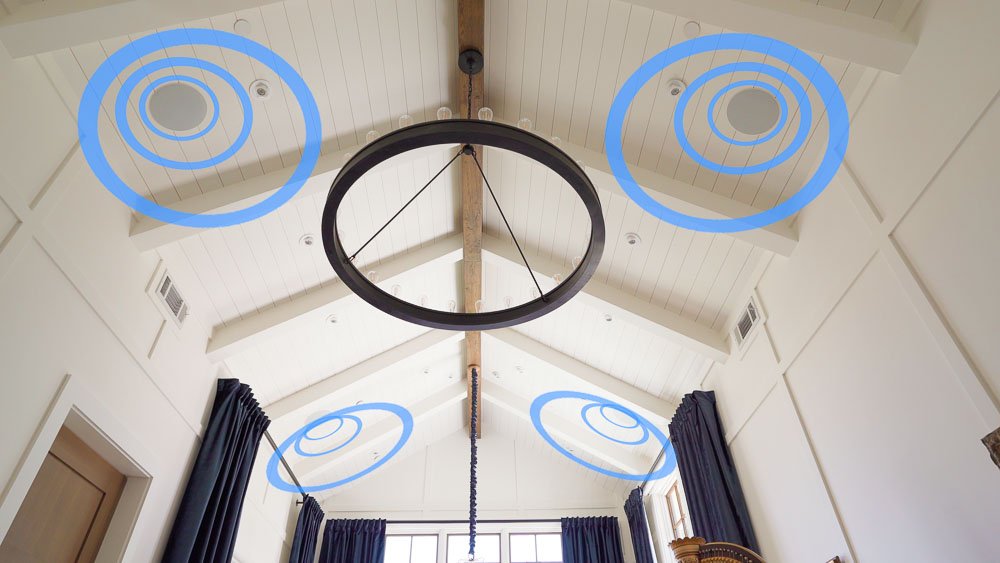 We'll design the sound system around your budget. Whether you pick a sound bar or a full fledged sound system, we'll make sure sound fills your entire space. 
Hide Your TV In Plain Sight
A TV can often disrupt the decor of a room, so they end up not being placed in the rooms they would most likely be watched in! Instead of designing a room around a TV, we design the TV around the room. The end result is a television that looks like artwork when not in use.
The Frame TV is a TV with a frame around it that displays artwork on the screen when not in use. It uses a light sensor to intelligently adjust the brightness of the artwork so that it never glows like a TV on the wall. Pick from one of Samsung's frames or we can design a custom frame to perfectly complement your space.
For those who want something more displayable, the Moving Art Screen looks and feels like an oil painting. Pick from a library of artwork, submit your own or contract out an artist. When its time to watch, your masterpiece seamlessly rolls up to reveal the TV.
Cover your TV with any piece of existing artwork. While the Moving Art Screen is great, it can be limiting. With the Moving Art TV, you can easily use existing art or use art that has elevation such as clay or other materials. This gives your wall depth and pop off the canvas until you're ready to watch TV. At the press of a button, the art moves out of the way and reveals your TV!
Mirrors blend into a space much better than a traditional television. With the mirror TV, you can have your mirror transform into a TV instantly! No moving parts, just turn on your TV like any other and the image will pass through the mirror
Sounds You Can Feel but Don't See
You see that wall? That's a speaker BEHIND the wall. You can't hide the TV but leave the speakers in plain sight. That defeats the purpose of hiding the TV. We can install speakers from the biggest names in sound into your walls or ceiling. Choose from a variety of speaker styles to match any space. Or have us design the space and we'll make sure your room is filled with sound.
From Beautiful Room To Home Cinema
Sometimes a Frame TV or Moving Art Screen won't fit the room or your home theater needs. Some of us want big theaters with the big screen experience but don't want to dedicate a space for it. Now your room can transform from a family room into a full-fledged theater system at the touch of a button.
Theater Experience Without the Man Cave Look
We've finally given people a reason to spend time in the prettiest room. Throughout the day your space remains just as you designed it. With the touch of a button, your space suddenly transforms to deliver a theater experience in your home. So gather the family, grab some snacks and settle down for an immersive theater experience!
Movie Time With Shades and Light Control
When you combine our theater system with lighting control and motorized window treatments, you can have all three systems work in perfect unison. Program your light keypad for a variety of settings. One button can reveal your system and turn off the lights. Another button can reveal your system, set the light brightness to 20% and lower all your shades. You can tell us to configure the lights, shades and systems to a limitless combination of settings!
We can camouflage every part of your home theater in ways you probably never imagined possible. In the living room, we can have your TV pop up from a cabinet, flip down from a wall, or have a projector screen roll out of a discrete trap door. We will show you all the options and associated costs. All you have to do is decide. Check out the solutions we have for the example space below.
A Space Designed Around The Experience
Dedicate a room to the ultimate viewing experience that rivals the most premium public theaters. Experience sound engineered for the space to eliminate undesired audio superposition. If you can dream it we can build it! We still make the room feel discrete by hiding the speakers and projector screen. Enjoy movies for hours in chairs designed for prolonged comfort.
Accoustically Treated Space
It doesn't matter what speakers you use. If your room isn't sound treated, then the audio in the room won't sound good. No equipment can compensate for a poorly treated room.
We design the space to dampen audio reflections while minimizing the visual impact on the space. We tune the room by adding sound diffusers and minimizing hard surfaces such as  hardwood floors and hard ceilings to retain control over sound waves in ways not possible in public theaters.
Intelligently Placed Speakers
We intelligently place our speakers to prevent undesired interference. We place them at ear level and determine the placement to prevent standing sound waves and control sound wave decay. Combined with the right equipment, you'll enjoy an acoustic adventure unlike anything out there!
We create a seal in your home theater so you only hear your movie and nothing else. Increased wall insulation and gaskets around entry points allow you to blast your movie without anyone else hearing it. At the same time, that insulation will ensure you can't hear anything outside of the theater, even during the quietest part of your movies.
Sit Back and Get Comfortable
Grab your friends and favorite snacks because you're all in for the staple definition of a high-performance home theater. Recline back in our theater-optimized chairs specifically designed for prolonged lounging. Rest at ease knowing you hired professionals who didn't take shortcuts, used the right products, and stands by their work with a lifetime guarantee.
Let's Bring Your Vision to Life
Fill out our form, and we'll get back to you as soon as we can. Or, skip the wait and call us!