1) Having Your Layered Lighting Perfect Every Time
We love layered lighting, but we think it becomes a hassle when each layer has an individual dimmer. The kitchen alone can have five layers: island lighting, under cabinet lighting, task lighting, sconces, and downlight. Without lighting control, each of these lights has its own dimmer. When you walk into the room and only want three of these lights on, you have to know which of the five unlabeled dimmers you need to adjust. So what ends up happening? Most people use the downlight and only use that light, meaning your other four lighting layers are left unused, and the kitchen never looks as intended!
With lighting control, we replace these five dimmers with a single lighting keypad. Each button on this keypad can control all your layered lighting with a single press. Maybe when you're cooking, you like the downlight at 100%, the under-cabinet lighting at 70%, and the island lighting at 100%. We can program your keypad with a "cooking" button that sets all your lighting zones to the perfect settings. With lighting control, different buttons can control the same lighting layers with varying brightness levels. SoundVision can program a second button that sets all the lighting layers to 50%. If you have Ketra-colored lights, you can seamlessly adjust their color from here too.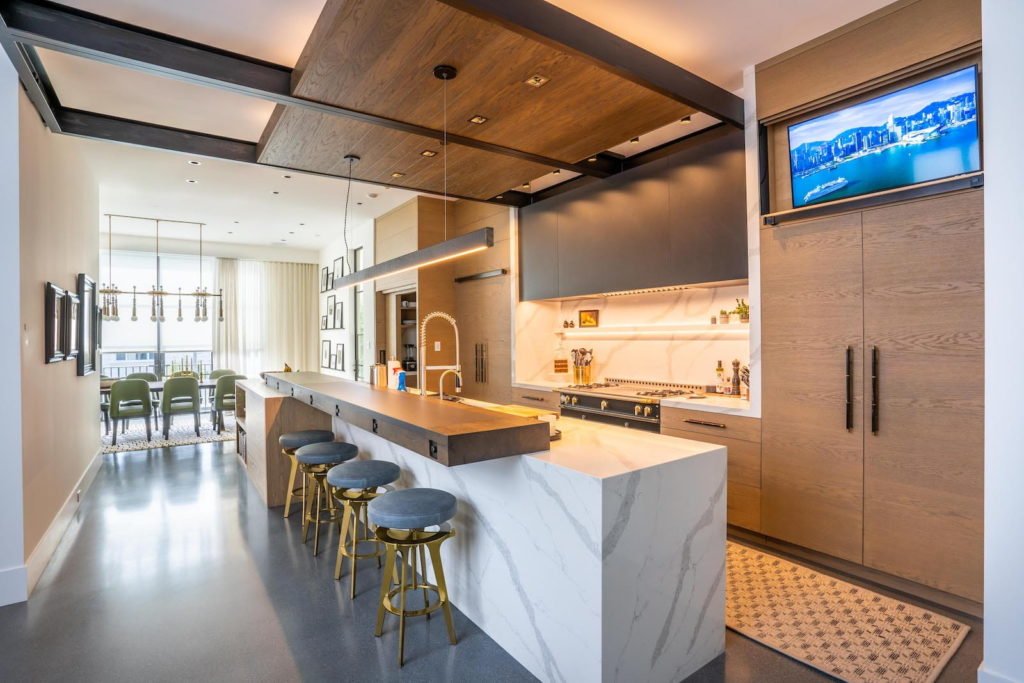 2) Aesthetic Upgrade: Decrease Wall Clutter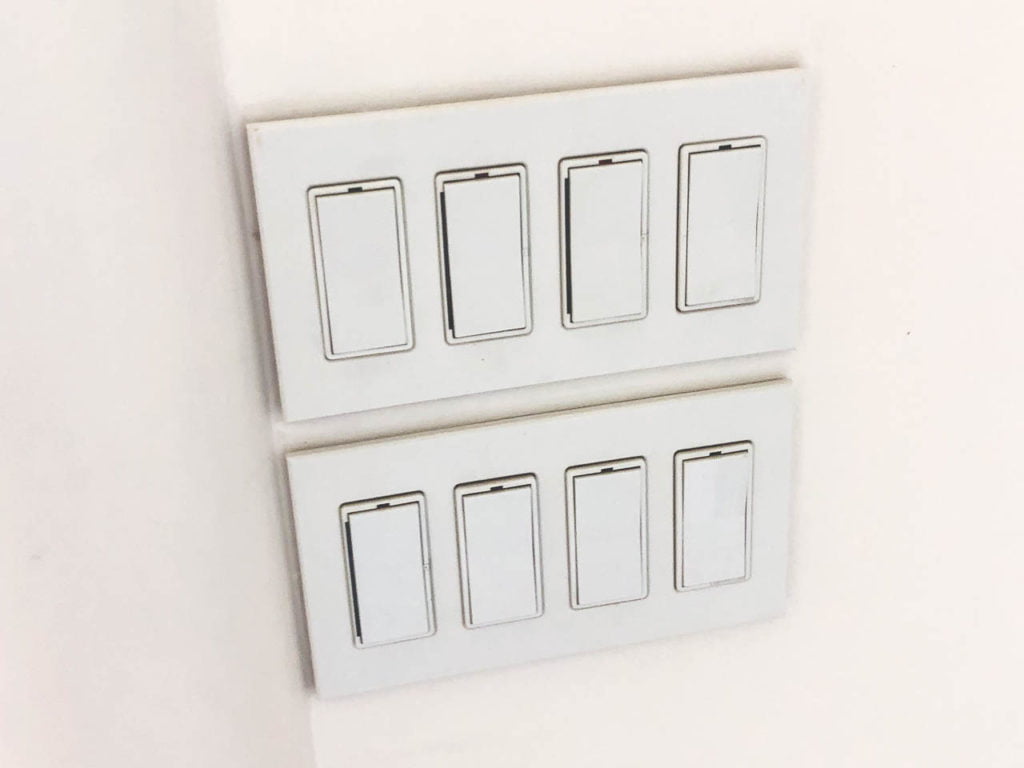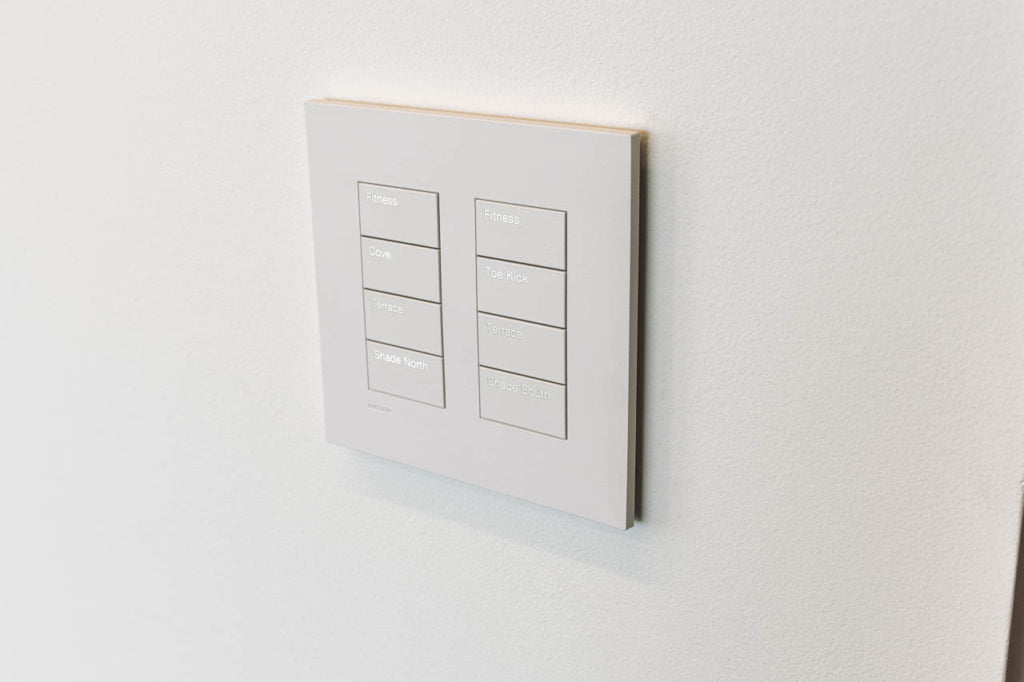 Our lighting control solutions can clean up the aesthetics of your home. A traditional lighting system has rows of light switches or dimmers taking up all this space on the wall. They add no aesthetic value and can detract from the room. Here at SoundVision, we call that wall clutter. The worst part? All these switches are unlabeled! A lighting control system allows you to replace all this wall clutter with a single keypad. Each button on the keypad is labeled, so anyone can walk into the room and instantly understand how to use it.
Lighting control keypads come in several different finishes to mesh with your interior design. The lighting keypad has over 20 colors to pick from to blend into your wall. Or you can accent the keypad on your wall by using a brushed or polished metal finish. Lutron's Homeworks QS offers a couple of other light switches called the Alisse and the Palladiom, offering a unique yet modern accent to your wall.
Stay Updated With Our Monthly Newsletter!
Join hundreds of others in the North Bay and get exclusive tips on the latest in home technology and home design.
3) Control Your Lights, Motorized Drapery, and Smart Shades From Anywhere
The Lutron App allows you to control all your motorized shades, motorized drapery, and entire lighting system right from your phone. Think you left your lights on? Just open the Lutron App and turn them off. Check the status of any lights in your home, turn them all off, or lower your shades! Anything you can control from a lighting control keypad in your home can be controlled right from your phone. The app groups your lights and motorized window treatments based on what room they're in, making it easy to control your home.
You can also adjust scheduled events from your phone. Want your living room lights to turn on after sunset? Go to the "Scheduled" tab in the Lutron App, hit "Add Event," and code it in! If you tell SoundVision what automated light or shade schedules you want, we'll add these for you on your behalf before you move in. We'll work with you to better understand how you live in your home to help create automation schedules to make your home more comfortable.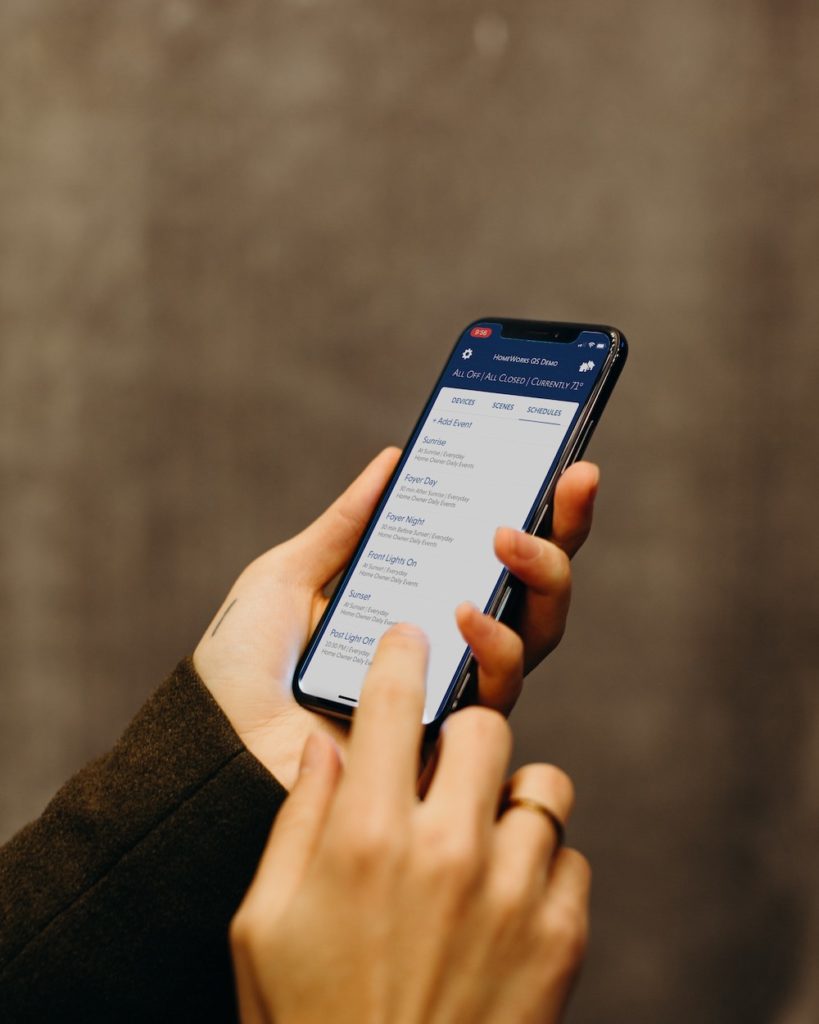 4) Home-Wide Control With a Single Press
Light switches only control one or two rooms without a lighting control system. However, a lighting control system can control any set of lights in your home at the touch of a button. We can program any lighting control button to do anything! Want to turn off all your lights from your bedroom before bed? Sure thing. Have a "Welcome" button at your front door that turns on your foyer, living room, family room, and kitchen lights. In an open floor layout, multiple rooms are all treated as one space. Lighting control allows you to turn them on as a single space, while still allowing fine control over each room.
5) Protect Your Home With Vacation Mode
It's easy to worry about the safety of your home, even when we're away from home! A home with the lights off for a few days in a row can easily indicate that no one is home and make the house a target! Thankfully, lighting control can help combat this problem with Vacation Mode. Vacation Mode mimics your lighting usage patterns from before you went on vacation but only mimics your actions in rooms facing outward to save power. To save energy, Vacation Mode also mimics your lighting patterns at a lower brightness. With a lighting control system from SoundVision, your home will be safe no matter where you are!
Should You Get Lighting Control?
Well, it depends! When you work with us, we evaluate each home and customer to determine if a lighting control system fits your needs. Some of our clients only need lighting control in a few rooms for easy control of layered lighting. Feel free to call us at (415) 456 – 7000 or message us online if you have any questions or want to schedule a consultation.