At SoundVision, we strive to make technology as aesthetically pleasing as possible, while still available at all times from the touch of a button. Nothing adheres to this model better than our hidden TV's. Available in a variety of forms, these televisions are completely out of sight and undetectable, but can become the center of a room when you please.
Our first hidden television concept allows you to use a framed picture as the centerpiece of your room. You and your guests can enjoy the beauty of the image, and when you please, the whole landscape of the room can change with the touch of a button. Straight from your smartphone, you can turn your TV on, and the picture inside of your frame will lift up and behind, revealing a TV of the same size to take its place.
The second concept we offer is similar in design. Once again, you will use a framed image as the centerpiece. However, with this design you press a button, and the entire picture, including the frame, lifts up or drops down and stays in sight, revealing a television hidden behind it.
The third hidden TV design differs in that it does not require anything to take the place of the television. Instead, a drop down projector and screen will appear in the area of your choosing, turning any space into a personal theater.

Our fourth concept allows you to use the design of the furniture in your house to hide your screen. When you please, your television will pop out of the top of your dresser, bookshelf, desk, or any other applicable furniture, to reveal a screen in a convenient location for your viewing pleasure. ?
Our final concept allows you to hide a TV behind a mirror. When turned off, the television is undetectable and hidden behind what appears to be a typical mirror hanging on the wall. However, when turned on, the mirror comes to life and becomes a high quality television screen.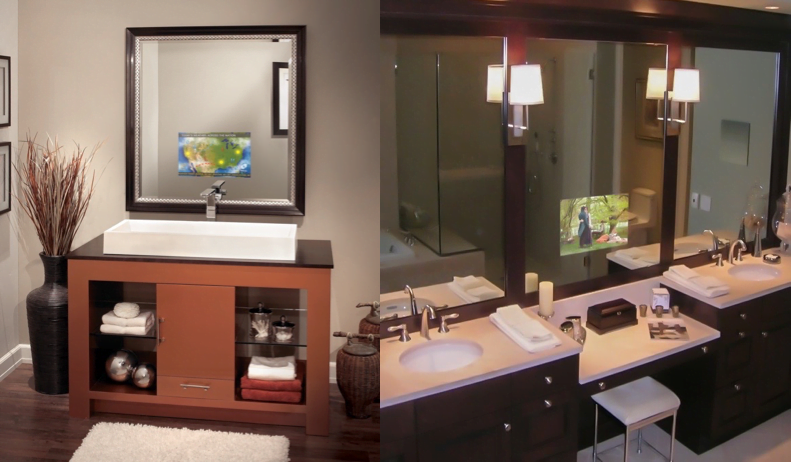 Your TV's are not always going to be in use. When they are turned off, you don't want an empty black screen to take away from the overall look and feel of your room. The best way to ensure that your dormant screens will not be a distraction to the rest of the room is by hiding them completely. All of our hidden TV's can be controlled straight from the Savant App or a handheld remote, allowing you to control all aspects of your integrated hidden entertainment system.
If you have any questions or want this technology in your home, give us a call!