Custom Restaurant Audio and Video Solutions
Our custom installations are sure to entertain your customers by offering the best selection of sports, music, and entertainment. Whether you're looking for in-ceiling, in-wall or outdoor speakers, distributed music systems or professionally installed HDTVs, SoundVision has a solution that will meet your budget and exceed your expectations. With an automated and fully customizable lighting and audio system, managers can cultivate different moods for their restaurant depending on the time of day or the individual room – from relaxing to romantic to a more high energy atmosphere.
---
4k TV's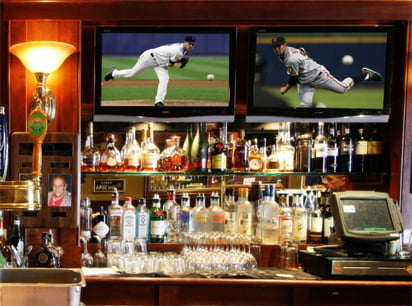 SoundVision provides TVs of the utmost quality. Make your restaurant the go-to spot to watch the days biggest game with Ultra High-Definition TVs mounted above your bar or around the restaurant. To set the mood in the dining area show off a cackling fire on the beautiful video display during dinner. Your Ultra HD TVs give you the ability to create different atmospheres at different times to change the look and feel at any given time through a simple interface.
---
Commercial Audio Systems
Our custom audio solutions allow you to play whatever you wish throughout your entire restaurant, whether it be projecting the big game, playing upbeat music in the foyer to attract those passing by or subtle background music during an evening dinner.
Both indoor and outdoor speakers are extremely discrete and can be installed in ceilings and walls. Our audio systems are virtually invisible keeping your interior decor and landscaping in tact. We offer a variety of control options from wall-mounted volume controls to wireless touchpanels or through your smart phone.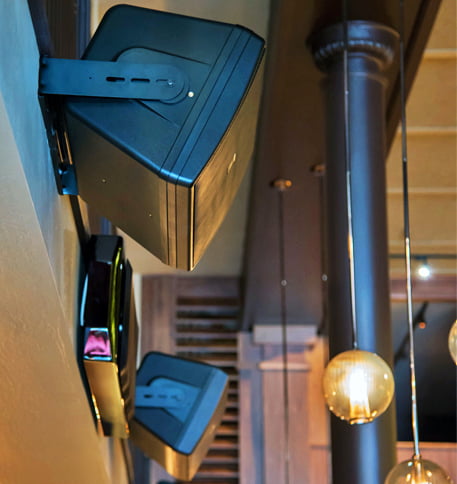 ---
Sonos Wireless Music System
With a SoundVision audio system you can break up your restaurant into different zones, so the entrance, patio, dining area, bathroom and bar could all be playing at varied volumes and even on different stations if you choose to do so. We recommend the Sonos Wireless Hi-Fi System, the best music system to date.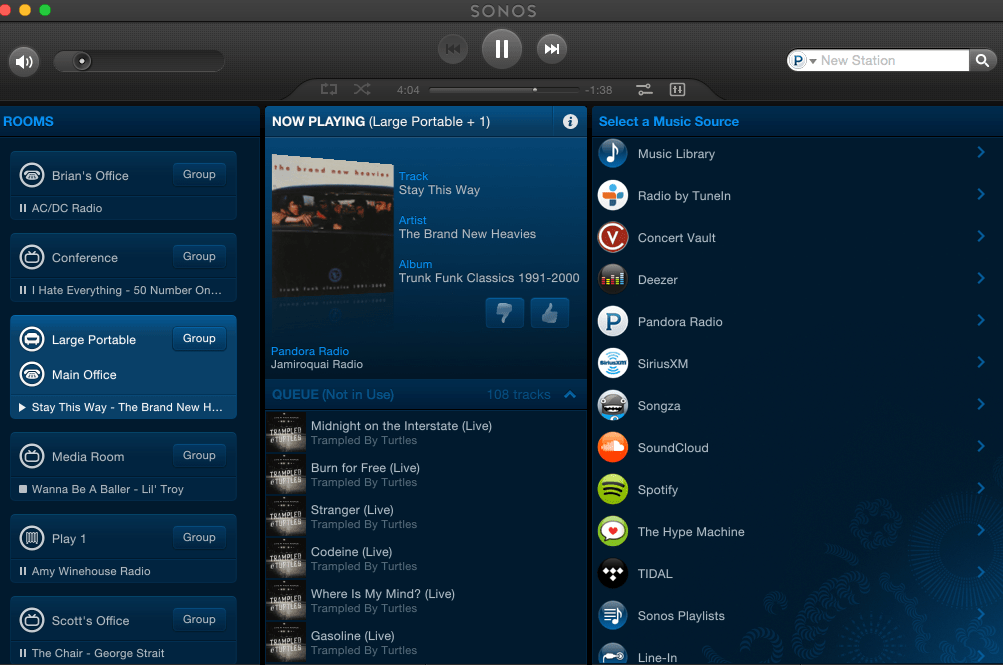 Not only does it allow you to play what you want in whichever room, you are able to play from a variety of different sources including your iTunes library, satellite radio, Pandora, Spotify and other music apps.
The Sonos app allows you to fully control your audio in each room individually or grouped together from the app on your phone, tablet or computer.
---
Business Music App
Control your music through Sonos with new music app, Mood:Mix, the music app curated specifically for business owners. Mood Mix allows you to add certain playlists/genres to your mix, determine how often they are played, and schedule mixes for certain times during the day. This app gives you total control of your restaurant by allowing you to set the atmosphere and create the vibe you want to project to adequately satisfy your guests and keep them coming back for more!
---
Surveillance Cameras and Security Alarms
SoundVision connects and secures your entire location by integrating our top of the line security products into other automated systems. Our security and surveillance systems allow you to double check the restaurant is locked, arm the alarm and check the live feed of surveillance cameras around the restaurant.
These systems are all easily controlled from anywhere using your smartphones and tablets, providing instant notifications in case of emergency and total control.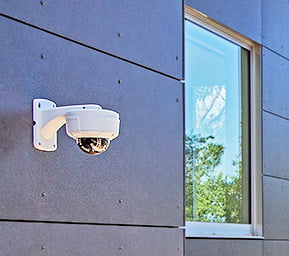 ---
Séura Mirror TV's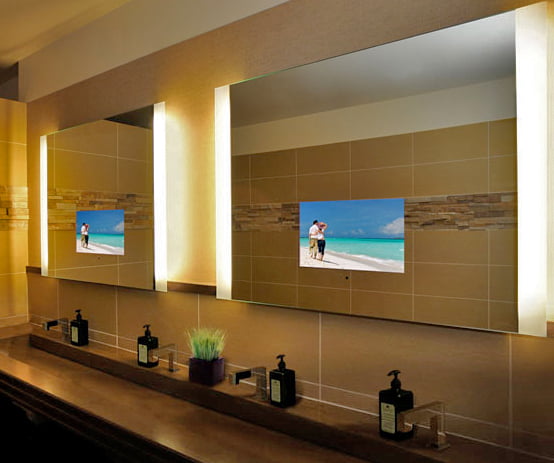 A mirror TV demands attention from your guests with its one of a kind elegance. A TV mirror works beautifully in restaurants, bars, bathrooms or in lobbies. In bathrooms guests never have to miss a minute of the big game or in the restaurant have the daily news playing during breakfast and then vanishing to an elegant mirror in the evening to preserve the ambiance of your dining room. Séura also offers waterproof and outdoor weatherproof TV options.
Find out more about Séura TVs on our Séura Brand page.