Jump to:
Home Audio
Easy Audio Control
See how easy it is to control the music throughout your home. Our showroom is powered by Sonos S2, the easiest to use and most reliable audio control system on the market. Play with it yourself and see how easy it is to play your favorite music in any room in your home.
In-Ceiling Speakers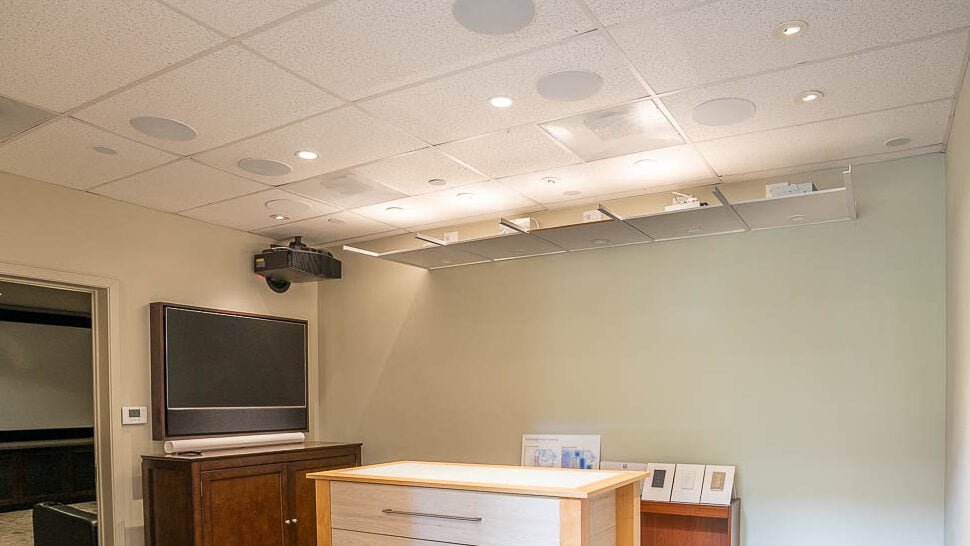 We believe you should hear your music, not see it! Our ceiling-mounted speakers allow you to enjoy even volume distribution throughout your home without any eye-level speakers in your space. With over ten speaker options, you can listen to all of our most popular in-ceiling solutions to determine which one is the best fit for you. You can mix and match, putting high-performance speakers in common spaces like the family room and more casual listening speakers in your kitchen.
Sonos Speakers
Some rooms don't demand the performance of in-ceiling speakers. You can still get your music from some of the Sonos portable speakers.
Sound Bars
We have the Sonos Arc on display so you can hear our most popular sound bar. People love its versatility: It will play audio from your TV or act as a speaker that is part of your Sonos system. It brings good sound in a compact package.
TV Experiences with Style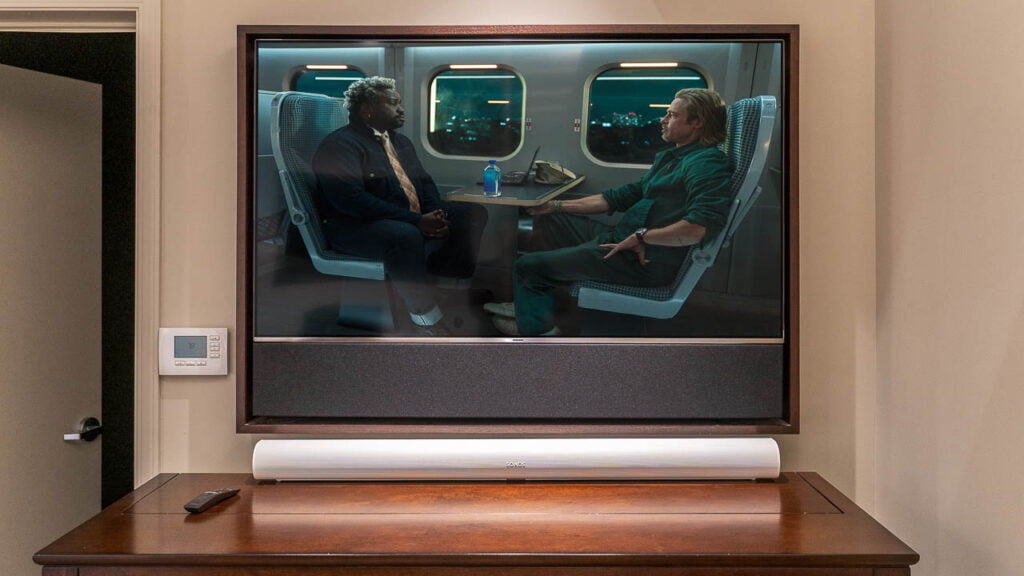 Leon Frame
Accessorize your home entertainment system with a Leon frame. The Leon Frame allows you to make a custom enclosure for your TV and sound bar while bringing a style that complements the rest of your space. The Leon frame helps your TV feel more like an extension of your room rather than an addition.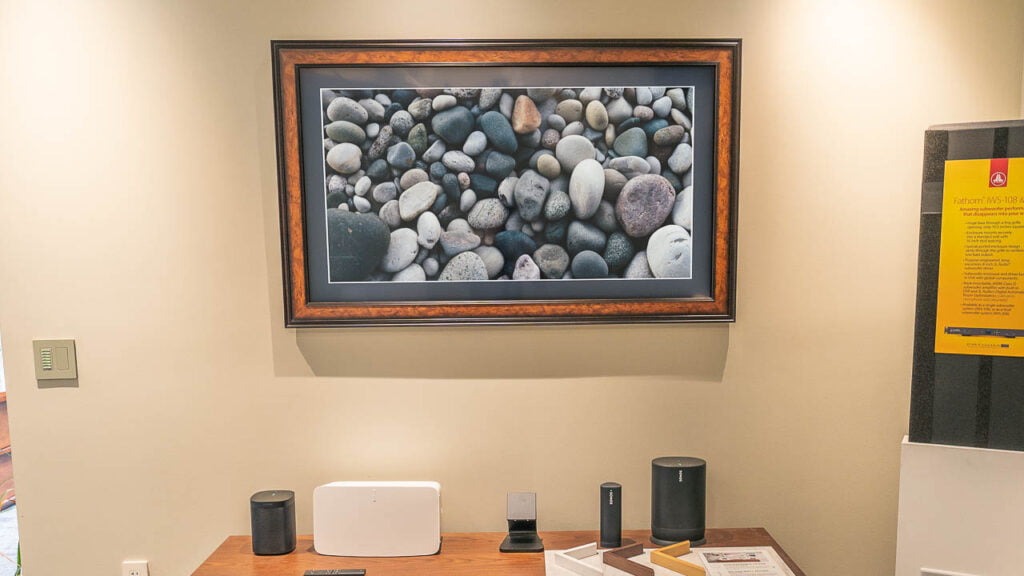 Frame TV
The Frame TV is one of our most popular solutions. Wrapped in a traditional picture frame of your choice. When you're not watching TV, The Frame TV displays the artwork of your choice. Pick from dozens of included photos, or pick your own. Customize the photo matte style and color to match your space. When you're ready to watch TV, you turn it on like any other TV. Now you can finally enjoy TV in a room where a traditional TV setup may feel intrusive.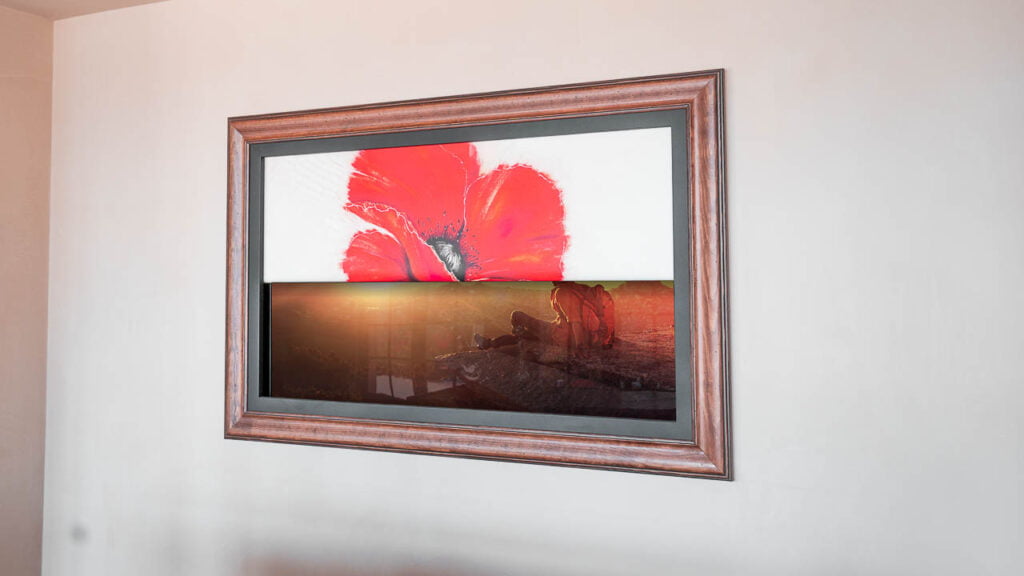 Rolling Artwork TV
Some people like The Frame TV concept but don't want to see a picture of art on a screen. They want to see actual artwork! That's when The Moving Art Screen comes in. The Moving Art Screen displays authentic artwork on a high-quality canvas. Customize it with your choice of frame, artwork and paper to leave no evidence that there's a TV! At the push of a button, the artwork quietly rolls up to reveal the TV of your choice. Solutions like these allow you to add a TV to a room without disturbing the decor or design. Come to our showroom to see the difference!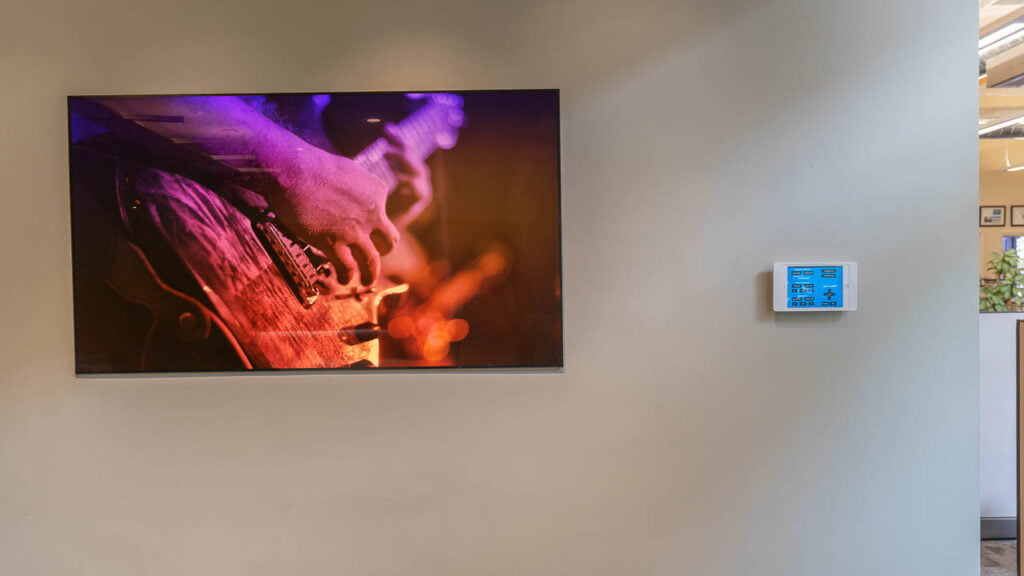 OLED TV
Our OLED TV allows you to see the difference firsthand. OLED is the latest technology in Screens, allowing for infinite contrast with individual pixel backlighting, bringing the best contrast, the widest viewing angles and some of the most vivid colors. However, is the OLED TV the right fit for your space? Decide for yourself! Compare our OLED TV with standard LED TVs right in our showroom.
Custom Home Theater
Some people are looking for more than a TV on the wall. We have a full-featured private cinema. Our theater demo has everything you may want in your own theater from lighting control, soundproof walls, a sound-engineered sound system, centralized system control and custom lounge seating. It takes a lot of work to bring a private cinema together, but the difference is night and day. You have to witness it in person.
Outdoor Audio
We know your outdoor space is an extension of your life at home, so we made sure our outdoor patio allows you to experience some of our outdoor solutions firsthand.
Discrete Speakers: The Garden Series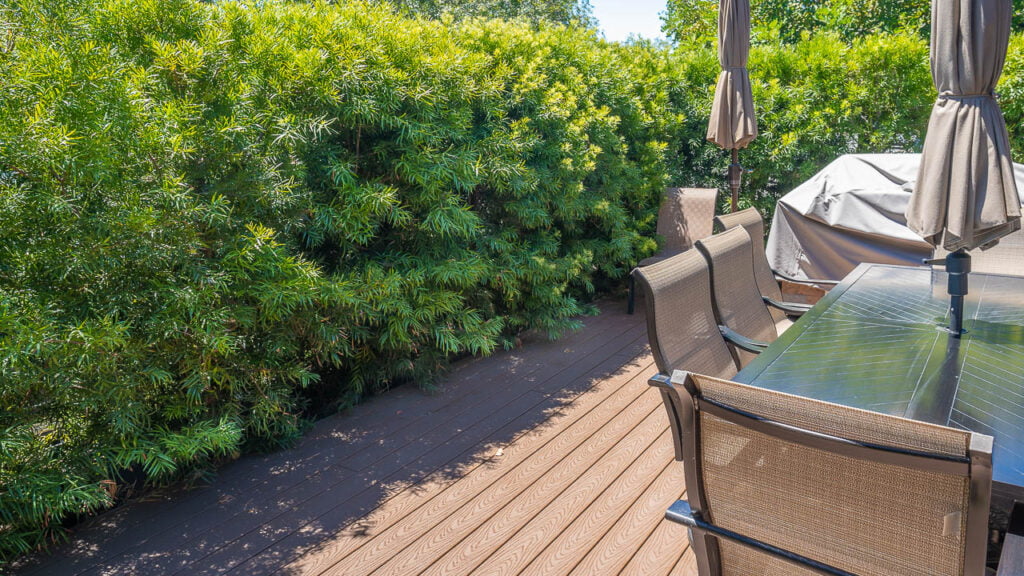 People love the garden series because it allows you to have uniform volume throughout your outdoor space without seeing a single speaker. Instead of a couple of loud speakers, the Garden Series has nine or more speakers placed throughout your outdoor space. With so many speakers playing, you can walk around our outdoor patio and hear virtually no distinguishable change in volume. The speaker's short, dark brown design makes them hard to spot when tucked behind your landscaping. We also show you the sound quality difference as you step up to higher performance options.
The consistent volume throughout the space makes it hard to determine the source of the music. It separates the idea that speakers are playing music and just feels like music is playing outside. A discrete subwoofer ensures you have booming full-range audio anywhere! Schedule a tour of our showroom to experience this firsthand!
Surface Mounted Speakers: Sonos Mariners
Our Sonos Mariners offer a more traditional outdoor music listening experience. Mounted to the exterior of your home, the Sonos Mariners deliver high-quality sound to your outdoor space. Compare the difference with the Garden Series and other outdoor audio solutions in our demo space.
Motorized Window Treatments
Our showroom has a variety of different mounting styles and fabrics styles on display. Check out the different mounting styles, like our pocketed battery-powered shades and our recessed-mounted shades for an invisible look.
Recessed Dual Roller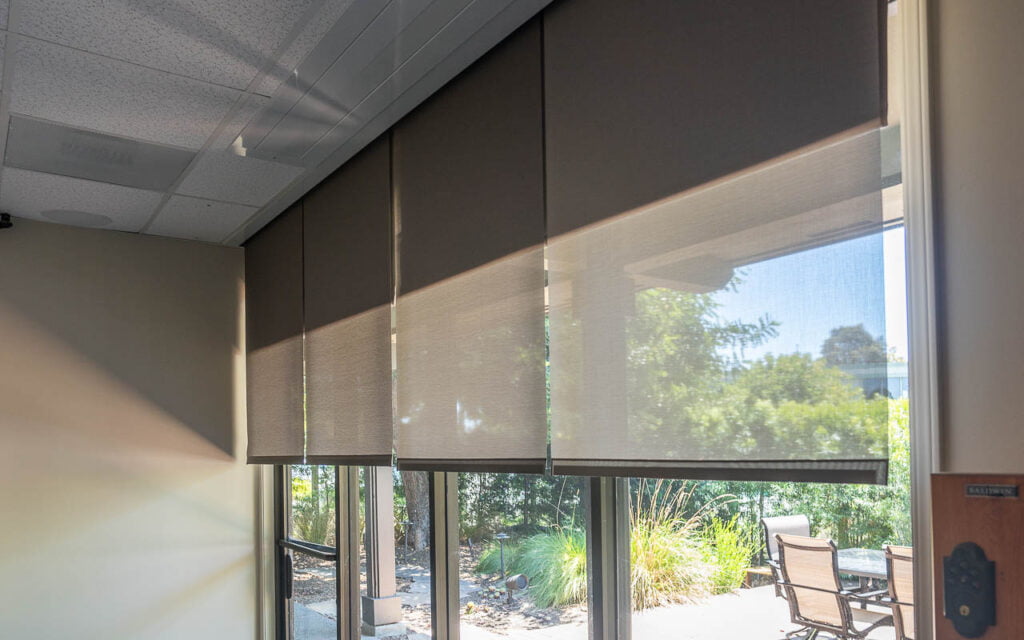 Our conference room features a dual roller, where you can have two different fabric styles covering a single window. The first style is a sheer fabric that allows you to look out at your view while protecting your finishes and reducing glare. Our sheer fabric gives you an extra layer of privacy, allowing you to look out to your view while preventing onlookers from looking in. Go to our back patio to see for yourself! The other shade is a more traditional blackout shade.
Battery Powered Pocket Shade
We also have our battery-powered shade on display, a popular option for retrofits where the walls won't be opened and when the shade will be easily accessible. Have your designer cover this shade in their own pocket, or pick from one of our pocketed styles. There are dozens of choices to ensure that our shades fit perfectly in your space.
All our motorized window treatments have hundreds of fabric and style choices, or you can provide your own fabric, such as Conrad. Our motorized window treatments also offer the same convenience and functionality: scheduled movement, app control and one-touch actuation from a remote or lighting control keypad.
Home Integration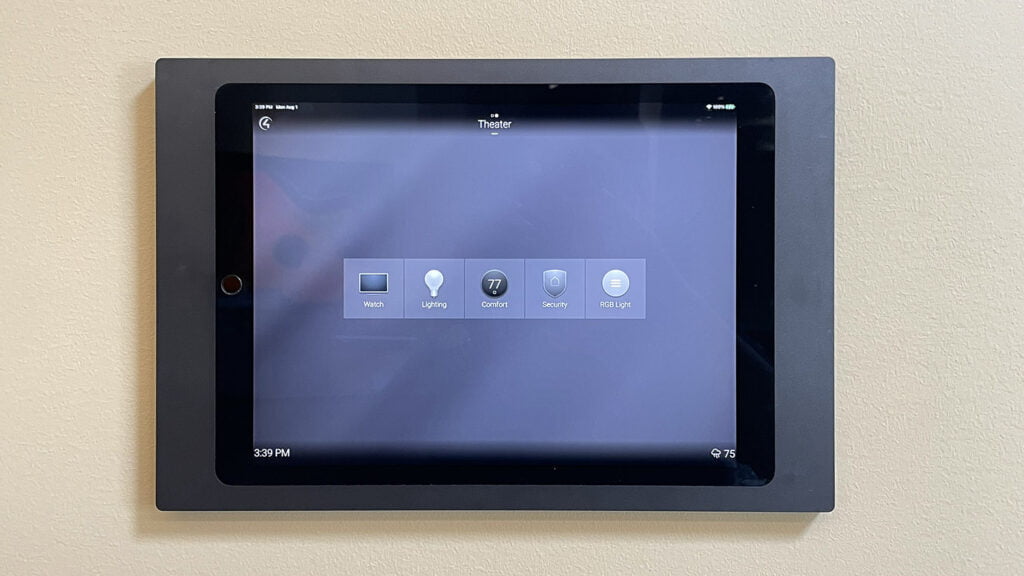 Not everyone needs full home integration, but you can decide for yourself thanks to our Control4 interfaces and universal remotes on display. Most installations don't need interoperability, but there are unique use cases where it makes sense, such as with home theaters and motorized lifts.
We want all of the systems we have installed in our demo space to be as simple to operate as possible. Our automation system connects all of our products and devices, making all of the technology in the office easy to use. Our shades, lights, music, TVs, heater and air conditioning can all be turned on and off from the same place. We have an iPad on the wall that controls all our connected products. We also have a universal remote control and smartphone app with the same capabilities.
Let us know if any of these products caught your attention and if you want to see them yourself. We enjoy showing off all of our great products and systems. Give us a call or set up a demo; we'd love to show you around!